PST Split Software to Split PST Items - Avert Approaching Corruption!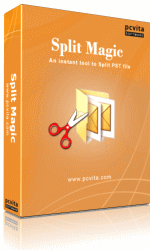 This is a common problem with all the older Outlook versions is with the size limit that is provided to ANSI PST files, which is only 2GB. Beyond this limit, Outlook corrupts. If your PST file is approaching this 2GB mark, then before it exceeds this limit and results in corruption, you must split Outlook PST files of large sizes into smaller parts using PST split software. We provide you the very efficient and output-driven PCVITA Split Magic software which will split PST file in no time.
Due to some Outlook upgrading inhibitions, have you been stuck with an older version of MS Outlook since a long time?
Is your mailbox now holding very huge PST files, which you fear to be approaching the 2GB file size limit mark?
Obtain the PST split software, take sigh of relief from PST file size issues.
Product Demo is Absolutely FREE - Check Our Product! Software in Full Mode!
We give this free product evaluation facility for corroborating and substantiating our product's efficiency. FREE Demo version of PST split software lets you split first 50 items of each PST file. After checking the demo, you must have acknowledged the efficiency of our product. Now, to split ALL PST files completely, buy PCVITA Split Magic software in its full mode.
There are Some Successfull Sign of this PST Split Software:
Successful PST split software can split Outlook archive file
This PST splitter software can split Outlook distribution list
PST splitting software has category to split PST file by date, by year, and by size
This software for splitting files of Outlook works well with almost all Outlook versions
Software can split all Outlook mailbox items like emails, contacts, calendars, journal, tasks etc
This PST split software retains accurate Metadata (to, from, cc etc)
PST split software can split Outlook PST email folders Inbox, Outbox, Deleted Items, Drafts etc
This PST Split software effectively tested with Windows 7, Vista, XP, 2003, 2008, 2000 and other all.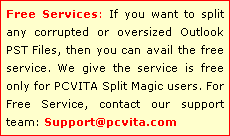 Other Recommended Tools:

PST Magic™
Exclusive Tool to combine PST into one & split large PST into small PST. Read More - PST Merge Trial
vCard Magic™
Exclusive Tool to transfer VCF to PST and PST to VCF contacts. Read More - VCF Converter Trial

Archive Magic™
Exclusive Tool to archive PST Emails as yet backup PST emails. Read More - PST Archiver Trial

Outlook Magic™
Exclusive Tool to turn PST to EML, MSG, VCF, TXT and HTML. Read More - PST Converter Trial

NAB Converter™
Import the whole contacts list from Novell GroupWise to Outlook & vCard. Novell Contacts to Outlook