PST Merge & Split Software with Many Facilities and More Functionalities!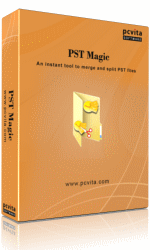 Every Outlook user finds it needed to get the data stored in the PST files merged, split or organized to get the data maintenance and control on his/her hands when the data is in bulk quantity after the extent use of MS® Outlook as an email client. The whole data that is in the Outlook PST files should be managed well so that no data will be ever loosed without user knowledge. PST Merge software of PCVITA is well designed and particularly facilitated to make the process of PST Merge, PST Split, like most needed process for Outlook users to be satisfied with ease.
PST Merge tool is capable to merge multiple PST files stored data into one
Merge and combine the PST file data without deleting any data
Add PST file data no matter they are from ANSI or Unicode origin
Join the data without duplicates
Append the duplicate date in one file named as duplicate .pst
Try Free Demo of Software with many Facilities, Split, Merge and Co-ordinate Data
To get the first 50 emails either Split or merged get the software downloaded for free which give opportunity to get the data split or merge from Outlook PST file and also get needed confidence in handing the process exhibited by the tool. The full version purchased will give the whole data from the PST format either split, merged and well organized.
Features Offered to Make the Process of PST Split and Merge a Great Success: PCVITA PST Magic tool remain one magical tool in the online industry because of the multi facilities it offers for the MS® Office Outlook users along with bundle of benefits as:
Facilities when Option for PST Merge is Opted:
Concatenate PST data from multiple PST files into one for easy management and access
Attach the emails, contacts, tasks, journals or any other data from the PST files without data loss
Link the data from many PST files and get the unmerged data in PST file named difference.pst
Connect the whole data from all mailbox, folders and sub folders no matter when or why it was stored
Solution to merge PST data and solve get the problem faced while managing multiple PST files.
Facilities when Option for PST Split is Opted:
Split process will show the number of items of split and also show the path of PST file
Break PST file data and allow for manageable arrangement of data with the magical tool PCVITA PST Magic
Divide bulk data into several PST files that gives much easiness in handling
Cut Outlook PST file data so that the fear of data damage due to oversize PST file can be avoided
Truncate MS® Outlook data in such a way that user will never feel the trouble in executing the process
Common Features for both Split and Merge process:
Emails, Contacts, Calendars, Tasks, Journals, To-do lists, Appointments, Address book, Distribution lists like whole data from the Outlook PST files can be either split or merged
MS Outlook PST file stored data can be merged by avoiding duplicates as software merge only one data of a kind and store duplicates in one different file namely duplicates.pst
Microsoft Outlook PST file merged items will be by default stored as Unicode PST files
MS Office Outlook split PST files process give the data from bulk PST files arranged according to date or creation and provide easy management
Outlook PST files can split or merged by options as "Split by initial years or Split by yearly"
Different Outlook data files stored data can be stored in one data files if it is defined as from particular year to one particular limit, which help user to handle data so easily
Outlook mailbox files that may include, Inbox, Outbox, sent items, deleted items, draft folders, can be split or merged where the particular data will be stored in folders with same name and whole custom folder data will be stored in one folder which provide easy management of Microsoft Office Outlook PST files
Trim or merge Outlook data without time, effort or data loss with the amazing tool PCVITA PST Magic
Outlook archive files, Outlook personal folder files, Outlook email files, Outlook backup files, Outlook PST items like any kind of data from multiple PST files can be reliably merged or split with the PST Magic software
PCVITA PST Magic software is one product of advance algorithms supports versions of Outlook and Windows as Outlook 2010, 2007, 2003, 2002 and Windows 7, XP, vista, 2003, 2008.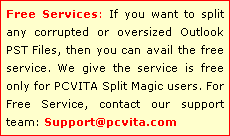 Why PCVITA PST Magic?
24x7 technical support to solve any query related to PST Split or Merge process.
Thirty day money back policy that transparent the credibility of the tool.
Free demo run that allow 50 email split or merge to make user confident about tool capabilities.
Other Recommended Tools:
vCard Magic™
Transfer VCF to Outlook Contacts & Outlook to vCard Contacts. Read More - VCF Converter Tool

Split Magic™
Split Large Outlook PST files into multiple chunks. Read More - Split PST Outlook

Archive Magic™
Easily Archive Outlook Emails into Few Easy Clicks. Read More - PST Archiver

Outlook Magic™
Easily Convert PST file to EML, MSG, VCF, TXT & HTML Formats . Read More - PST Converter Tool

NAB Converter™
Easily move the contacts data from GroupWise to Outlook with GroupWise to Outlook converter
30 Days Money Back Policy!