VCF Converter: Get the Universal Accessibility of Contact Details Stored!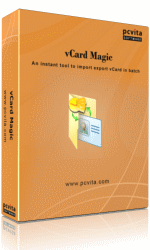 When user wants to get the contact details from the Outlook® platform usable in many other platforms then installing a VCF converter is one wise idea. Selecting PCVITA vCard Magic for the preferable contact details conversion will give the dual benefit of reliable MS Office Outlook contact list migration to VCF format of vCard and also VCF contact list to Microsoft® Office Outlook conversion with ease and reliability resting on user side.
VCF converter supports the conversion of contact details from and to the 2.1 vCard and 3.0 vCard editions
vCard Magic software is one utility program that converts the Outlook address book data without any loss or damage
PST to VCF and VCF to PST bulk conversion possible with minimum time and effort utilized
Functionalities of FREE Demo Edition and Full Edition
The PCVITA vCard Magic tool give the FREE conversion of 5 contacts from VCF to PST format and also from PST to VCF, when the free downloadable edition is been installed by the user. To get the whole data from the Outlook format to VCF format converted purchase the application program for affordable rate $49 from resource.
Attractive Facilities Offered by the VCF Converter:
Export each contact data into single VCF file, for E.g.: 1000 contacts if converted to VCF from PST then will give 1000 VCF formatted data
Contact details migration tool will support single entry and multiple entry export import process
Outlook address book migration tool can convert email ID, telephone number, fax number, Photograph etc like fields from the PST contact list to VCF and vice versa
Software to convert Outlook contacts details can convert the distribution lists, group contacts, folders created in the address book safely
Android, Entourage, Evolution, Lotus Notes, Macbook, Macmail, Outlook Express, Apple address book are examples for the platform that the vCard Magic via migrated Outlook address book data can be accessed
Zimbra, Gmail, Yahoo mail, Windows Live, iPhone, iPad, Blackberry, iPod, iTunes, Nokia, Phone, Palm, Samsung, HTC mobile etc
The conversion of Outlook address book stored data to VCF format can pave way to access the contact details in multiple platforms like business mobiles, many software, email platform and advance OS.
The PCVITA vCard Magic application program converts entire data from the personal address book stored in the MS® Outlook PST files
Outlook data files with contact list stored can be converted as a whole with the VCF converter and also from vCard to Outlook also
Outlook archive files contact details can be converted to VCF format reliably
Outlook personal folder files carry the contact list and each contact data can be relevantly migrated to the VCF format to get universal accessibility
Outlook backup files stored contacts also can be converted to universally accessed VCF format
Outlook mailbox files from ANSI or Unicode format can be converted to vCard VCF format and VCF data can be converted to both Outlook formats
Transfer Outlook PST items to vCard VCF format and get the data from MS® Office Outlook accessible in Salesforce, Thunderbird, Windows address book, Windows mail, Windows live mail, like many other platform
With the PCVITA vCard Magic software user can migrate, convert, export, import, move, switch, shift, connect, forward, link, merge, add, upload, contact details from MS® Outlook to VCF and VCF to Microsoft® Outlook PST format
Sync contact list data from MS® Outlook 2010, 2007, 2003, 2002, 2002, 97 editions
Microsoft Outlook contact conversion is possible in the Windows OS as Windows 7, XP, vista, 2003, 2008, installed machine
Why PCVITA vCard Magic Software?
Many reasons will prompt you to select the PCVITA vCard Magic as desired VCF converter to access MS® Outlook contact details in multiple platforms and among them some main benefits for users can be listed as:
Thirty day money back guarantee if utility program fails to perform what is offered
Dual benefit of PST to VCF and VCF to PST export or import
Free demo of the tool to convert Outlook PST contact list to vCard VCF format in limited number of 5 contacts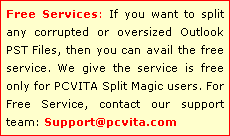 vCard Supported Platforms:
Apple Address Book, Entourage, Evolution, Lotus Notes, Macbook, Macmail, Thunderbird, Salesforce, Zimbra
Outlook Express, Windows address book, Windows mail, Windows live mail,
Gmail, Yahoo mail, MSN Windows Live, Salesforce, Gmail etc
Android, iPhone, iPad, Blackberry, iPod, iTunes, Nokia, Phone, Palm, Samsung, HTC mobile
Other Recommended Tools:

PST Magic™
Download to Easily combine Multiple PST file into single PST file. Read More- PST Merge Tool

Split Magic™
Download to Split Large Outlook PST File into UNLIMITED chunks. Read More - Split PST Outlook

Archive Magic™
Download to Archive Outlook PST Email into few soft clicks. Read More - PST Archiver

Outlook Magic™
Transfer PST to Non PST Format With Secure Platform. Read More - PST Converter Tool

NAB Converter™
Easily Convert GroupWise address book contacts to Outlook by Groupwise to Outlook Converter