Split up PST File: Effective Management, Rising Stats!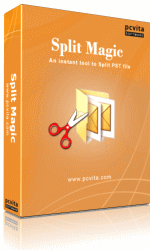 Striding out at large, players of system software technologies PCVITA is here again with your ever haunting archival budget concerns. Yes, splitting PST file tool, achieve flexibility via modularity. Simple, isn't it. PCVITA Split Magic is built with due concern to splitting PST of Outlook 2007, splitting PST of 2010 and 2003 either. Split Magic with its three faculties; split by date, split by size and split by year and all done within moments. PST splitting goes easy now:
Robust build, stable on any PC Windows
Latest most in demand feature set.
Windows standard GUI
Separate sandbox running environment, secure prior data values
Splitting PST Files in Outlook Download: Fly FREE!
For full customer satisfaction we render a trial version of splitting PST file software for splitting PST 2003, 2007 and 2010 Outlook files into several smaller files in outlook that is absolutely free of cost. Users can first take a trial of this splitting PST file software to judge its capabilities and then can easily order the complete version online for $49 only. There are certain limitations of the demo version of splitting PST tool; it will allow you to split first 50 emails of PST files. For more you need to order the full version of our splitting PST software a.k.a splitting PST archive utility.
Splitting PST Files Tool: Answer Why?
To enhance the performance of outlook, need of splitting PST files arises as large PST files can slow down the speed of outlook and even the risk of the files getting corrupt increases substantially if the size of the file transcends 2 GB. Using splitting PST tool for splitting PST files 2003, splitting PST 2007 and 2010, enhances the speed of outlook tremendously. Efficient solution calls for splitting PST software, for what we are here.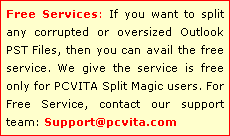 Other Recommended Tools:

PST Magic™
Special Tool to combine PST into one & split large PST file. Read More - PST Merge ANSI

Outlook Magic™
Special Tool turn PST file to EML, MSG, VCF formats. Read More - PST Converter ANSI

Archive Magic™
Special Tool to archive PST Emails & for backup PST emails. Read More - PST Archive ANSI
vCard Magic™
Special Tool to turns VCD to PST contacts and PST contacts to VCF. Read More - VCF Converter ANSI

NAB Converter™
An express tool, knows for speedy GroupWise contacts to Outlook conversion. NAB to Outlook Contacts