PST to VCF Converter Utility: Taste the Essence of being Flexible!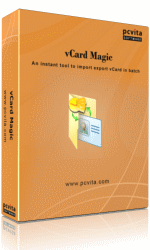 Always found yourself crossing fingers for not having any mishap to Outlook? Okay if Outlook automatically manages your contacts and too in separate folder but is it guarantees to always defend you? Is it so? Survival in 21st century is possible only for those who trust technology not fate. So, what is better? Yes, convert Outlook contacts to some generalized format viable to synchronize with present-day apps. Convert Outlook PST to VCF, of course by PST to VCF conversion utility. Launched at large PCVITA vCard Magic is your much awaited PST to VCF conversion software. Check out how:
Instant conversion of contacts from Outlook PST to VCF files & vice-versa
Genuine UI built on latest Ergonomics standards
No prior expertise is expected, solution that novice can master easily
Experience PST to VCF converter free: The vCard Magic
Free, Yes sure as in free speech PCVITA vCard Magic, the PST to VCF converter utility is free for download but constrained only for first 5 contacts conversion. Avail, PST to VCF conversion software in its full momentum for 49 USD and discover more on how to convert PST to VCF files alongside, 24x7 coherent tech. supports. 30 days money refund policy is there cumber to certain criteria.
Convert PST to VCF Files: The software Know How!
In depth insights to PCVITA vCard Magic, a PST to VCF conversion tool let you achieve seamless communication flexibility to most of the contemporary devices, third-party Apps and over many of the operating System kernels. VCF is much supported file format than Outlook proprietary PST file. This PST to VCF converter utility supports all vCard formats either it be 2.0 or 3.1. converts PST to VCF files over any PC Windows platform suppoting any Outlook release.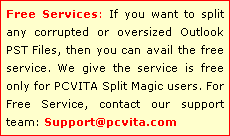 Other Recommended Tools:

PST Magic™
Merge & Split numerous large PST file in proper manner. Read More - Best PST Merge

Split Magic™
Easily Split large PST File by date,size and year. Read More - Best Split PST

Archive Magic™
Get secure back up of MS Outlook emails in proper manner. Read More - Best PST Archive

Outlook Magic™
Multiple conversion solution providing end-to-end result. Read More - Best PST Converter

NAB Converter™
Migrate Groupwise to Outlook contacts with by advacne Groupwise to Outlook Migration Tool