Requirement for a Quick Conversion - PST to vCard Free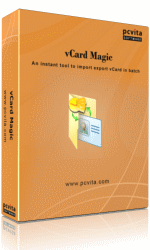 Convert PST to vCard file easily and conveniently using PST to vCard converter tool. PST to vCard free download to convert PST to vCard and to convert all Outlook contacts to vCard. Check out the features of PST to vCard free converter program:
Provide bulk import of PST to vCard
Provide bulk export of vCard to PST
Manage all fields of vCard file
Remain contacts image save & secure
Buy the full version in only $49 for personal license and get the software. Also get 24*7 online tech support for any query regarding the software.
Need to Switch from PST to vCard Free?
PST to vCard conversion using PST to vCard FREE download. Now manage your Outlook contacts in vCard freely using the demo version of PST to vCard. PST to vCard converter demo version provides conversion with the limitation to:
Convert 5 Outlook contacts to vCard files
Convert 5 vCard files to Outlook contacts
Note: You can convert multiple PST files contacts into vCard format at once using our widely-used PST to vCard converter software known as PCVITA Outlook Magic Read more...
Waiting for a Solution - How to Convert PST to vCard Free?
PST to vCard converter useful in converting PST to vCard free. The best PST to vCard conversion software has some limitation with demo version to judge the software effectively and to manage your Outlook PST to vCard free. It will be easy for you to purchase the full version, PST to vCard converter with full functionality to convert your entire Outlook contacts to vCard and all vCard to Outlook PST.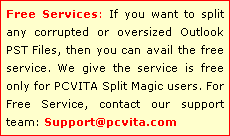 Other Recommended Tools:

PST Magic™
Solution for multiple PST files merge and split at once. Multiple PST Merge
vCard Magic™
Multiple Outlook and vCard contacts conversion solution. Multiple vCard Import Export

Archive Magic™
Multiple Outlook PST files can be archived through the tool. Multiple PST Archive Tool

Outlook Magic™
Conversion of multiple PST files into non PST format at once. Multiple PST Converter Tool

NAB Converter™
Multiple contacts of Novell GroupWise and client conversion in bulk. Bulk NAB to PST Converter