Split Huge PST Files into Various Files, Units or Chunks all in a Go!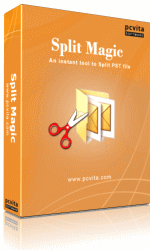 PCVITA unleashed the newly update PST splitter application software. Aim to split the largest MS Outlook PST file into multiple Outlook PST files. Besides, PST Splitter application is secure, stable and in demand by following:
On fly split your chunk PST file into multiple PST files
Splits huge PST file separately by size, by date and by year
Supports any PC Windows platform (98, 2k, XP, Vista and 7).
Supports any MS Outlook release (2002, 2003, 2007 and 2010).
Premature data stays intact, maintains metadata consistency.
Get the Demo for try and Full for seek the PST Split Job!
Have a try of your evaluation copy free and learn more, constraint to first 50 items. Get Licensed copy with 24/7 online chat support or remote assistance worth 49 USD. PCVITA Split Magic is an Install-uninstall application, lightweight, secure, cost-effective, low storage utility. A must have pst splitter application to split huge PST files into various small units for which your enterprise is in sate of.
PST Splitter Application: A Green Signal for Heavy PST
PCVITA team employed ergonomics experts around the world to design Split PST GUI which won' let you lost in application interface, so intuitive that you need not be an expert to use it, hands-on experience is suffice. Split PST tool provides you complete split result in MS Excel sheet comma separate value (.CSV) format comparing items been split per PST file. Order your copy now!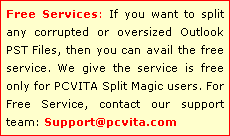 Other Recommended Tools:

PST Magic™
One click solution to split PST files and Merge PST files . Read More - PST Merger Review
vCard Magic™
One click process to convert PST contacts to VCF. Read More - VCF Converter Review

Archive Magic™
Single click way to backup and archive PST emails more years. Read More - PST Archive Review

Outlook Magic™
One click execution of Outlook PST to EML, MSG, VCF, TXT etc. Read More - PST Converter Review

NAB Converter™
Export Novell address book to Outlook address book in big batch. Go for NAB to PST Converter