Lotus NSF to Gmail Converter - Sail Beyond the Lotus Notes Precinct!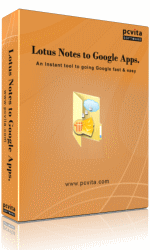 Does heavy IT infrastructure cost turn out as barrier to your productivity boost? Are you still investing on conventional Server maintenance tasks? Give cutting edge competition to your contenders, achieve flexibility, cut down all your costs concerned with IT business infrastructure. Give unimaginable flexibility to your business and migrate NSF to Gmail cloud services. In short, be on cloud nine. HOW? Migrate all your mail transactions to Goggle apps cloud services. You are using either Lotus Notes or MS Outlook. Our NSF to Gmail converter keep it simple!
Get your evaluation copy of this NSF to Gmail converter free and learn more on how it maintains trust relationships with Gmail server to prevent you from multiple authentication issues as often encountered while migrate to Google cloud services.
Download NSF to Gmail Converter: Be on Clouds!!
Heavy NSF files files can easily be migrated FREE of cost on the go with the only first 50 emails constraints. Purchase its full version worth 69 USD along with consistent 24/7 Online chat support or remote assistance.
Gone are those days when people need to master Outlook or Lotus Notes to be able to send and receive their mails. New Generation is accustomed to web mail services like Gmail and don't want to get into murky Lotus Notes complexities and obviously why should they? Present scenario calls for Cloud and so you should be to maintain your competence in this ever-changing IT industry. Start; convert Lotus Notes NSF files to Gmail with PCVITA Express Migrator for Google Apps. Small, secure and flexible utility for in mass import of NSF files to Gmail.
Features that makes Lotus NSF to Google Gmail Migration Easy :
Support multiple NSF files migration in bulk and batch, at a time conversion
NSF to Gmail migration through OAuth, multiple users migration at same time
Re-migration facility in the case of interrupted or resumed migration
Extensively keeps all original meta data intact, no data integrity
Migration of NSF emails, contacts, calendars and notes items in selectvely
Conversion from NSF to Gmail supporting IBM Domino Server and Lotus Notes 6.5, 7.0, 7.5, 8.0, 8.5
NSF to Gmail migration over Google Apps for FREE, Busniss, Education, Government & Nonprofit platforms
Some Useful Product Stuffs:
Get Product Video
Note: The Gmail account should be paid or premium for using this service.
For NSF to Gmail conversion, you only need to provide your NSF file location to the software and it will automatically convert all the Lotus Notes items like contacts, emails, and calendars from NSF to Gmail which is Google Apps mail utility. To get such wide set of functionalities, order your NSF to Gmail converter NOW start at $69 only.

Prerequisite:
Google Apps must enable provisioning API
Google Apps must enable for using the Email migration API
Lotus Notes must installed & configured with POP3 profile
Lotus Notes should not be connected with Domino Server
System Requirements:
Memory:
156 MB (the more the better)
Processor:
Pentium II 400 MHz
Operating System:
Vista, XP, 2003, 2002, 2000 and 98
Other Cloud Migration Tools:

PST to Gmail™
Migrate PST to Gmail into few easy click by. Read More - PST to Gmail Converter
IMAP to Gmail™
Best tool to convert IMAP to Gmail With few easy clicks. Read More - IMAP to Gmail Converter
30 Days Money Back Policy: