Merge Outlook PST File ANSI Format: How it is Possible?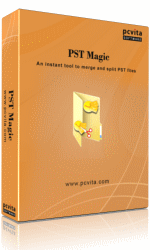 ANSI format is format of Outlook files which is saved before MS Outlook 2003 versions. When Outlook launch then it support only ANSI format files, but when MS Outlook 2003 launch then it convert with Unicode format. Unicode is updated format to avoid the limitations of ANSI format. ANSI format supports only 2GB memory space at the time of file saved. Few things about ANSI format:
ANSI stand for American National Standards Institute format
Overall file storage size has limit of 2GB (gigabytes)
Outlook 2002 and earlier version create ANSI file by default
Outlook 2003 also support ANSI and Unicode both format.
How to get PST Magic?
PST Magic is easy to purchase and merge Outlook PST files ANSI format with PST Magic is too brassier. You have to just click on download button and save on local machine. This is demo version which is totally free and it can merge Outlook PST file to ANSI format with first 15 items of PST files. If you desire full version of PST Magic then you must purchase personal license of PST magic. Personal license of this software is too brassier just paying $109 only.
What is ANSI format of Outlook file?
Microsoft Outlook has two formats before Outlook 2003 it support ANSI format and Outlook 2003 and latter on version supports Unicode versions. Outlook 2002 and earlier version of Outlook has some limitations like only 2GB storage memory supported if PST file exceed from 2GB it will corrupt or give some error. So you saved PST file in different locations. It will difficult to manage and now you want to get some solution of managing PST file problem. We give you best solutions by merge Outlook PST files ANSI format you can manage PST file in well organized manner. By merge Outlook PST file ANSI format is way but you don't know how to merge Outlook PST files ANSI format. Don't think so long because now you can go with PST magic software. This software helps you to merge Outlook PST files ANSI format in better way. Merge Outlook PST file ANSI format is secure and Brassier way. It is secure because it generates merging reports of all steps.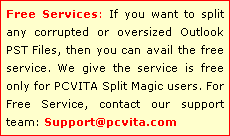 Other Recommended Tools:

Split Magic™
Tool to split large PST into small PST & allow easy to use platform. Read More - Split PST Freeware
vCard Magic™
Tool to transfer PST contacts to VCF file foramt. Read More - VCF Converter Freeware

Archive Magic™
Tool to archive PST Emails as yet backup PST emails. Read More - PST Archiver Freeware

Outlook Magic™
Tool to turn PST to EML, MSG, VCF, TXT and html. Read More - PST Converter Freeware

NAB Converter™
PCVITA offers contacts converter tool for Novell GroupWise to Outlook. Novell GroupWise to PST