Divide PST File in Outlook with Splendidly Designed Division Tool!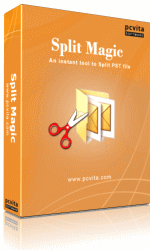 Divide PST file for all Outlook items like emails, calendars, contacts and tasks. Use this divide PST file software to divide the PST file in Outlook. Start; divide your personal folder with divide PST software by Size/date and yearly basis keeping your premature data and Meta data intact besides being secure. Three different type of division is possible with our divide PST file tool.
Divide PST file by date
Divide PST file by year
Divide PST file by size.
Download the Software to Divide PST File in Outlook to Split PST File!
Try free demo of Divide PST software, slit first 50 items from each PST and learn more. Consistent 24/7 support is there, direct from Developer's bench or remote assistance with full version only of 49 USD.
Prolonged use of Outlook results in performance penalties besides being difficult to handle large sized personal folder (.pst) file and soon impending maximum file size reached warnings. Outlook not let you to change file size limits if supports UNICODE format for PST files, with maximum size of 20 GB.
Stay secure and compliant with PCVITA divide PST software for any existing Outlook version (2002, 2003, 2007 and 2010). Divide PST tool stands on any Windows PC platform (95, 98, 2000, XP, 2003, 2008, VISTA and 07). Three intuitive functionalities to split PST file on yearly basis, by size variations of 256MB, 512MB, 1GB, 2GB, 3GB & 4GB and by date to get at least two PST (one up to date specifies and other from there afterwards). Go, divide PST files in a way never been seen before.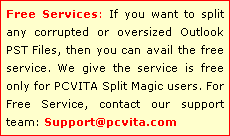 Other Recommended Tools:

PST Magic™
Exclusive Tool to combine PST into one & split large PST into small PST. Read More - PST Merge Trial
vCard Magic™
Exclusive Tool to transfer VCF to PST and PST to VCF contacts. Read More - VCF Converter Trial

Archive Magic™
Exclusive Tool to archive PST Emails as yet backup PST emails. Read More - PST Archiver Trial

Outlook Magic™
Exclusive Tool to turn PST to EML, MSG, VCF, TXT and HTML. Read More - PST Converter Trial

NAB Converter™
Switch over MS Outlook from GroupWise in easy steps. Try NAB to Outlook Contacts Converter